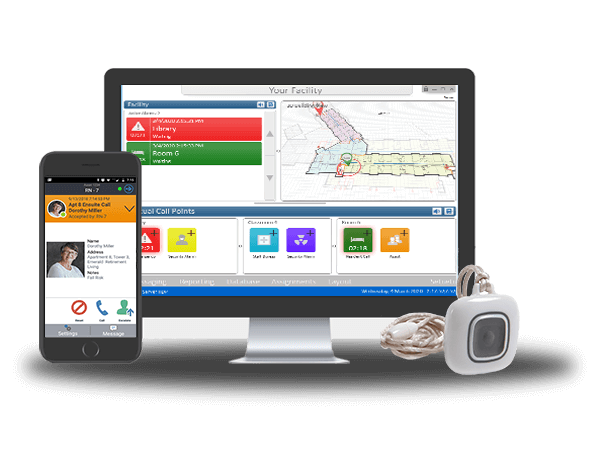 XTendCall, a wireless nurse call system for supportive living and lifestyle communities is a state-of-the-art technology designed specifically for senior care. From small retirement homes to some of the largest continuing care retirement communities XTendCall can help facilities to protect their residents. The launch of three levels of wireless nurse call products gives senior care providers a variety of options to choose from according to their needs and budget. Wireless nurse call systems provided by XTendCall, are helping lifestyle communities fulfill their supportive role for their residents. There are three important things to know about our Wireless Nurse Call System:
Reliable and Accurate
XTendCall is an effective wireless nurse call system that gives residents and their caretakers the protection and peace of mind, as well as the confidence that the most advanced care can be provided in the shortest period. When a wireless nurse call system is implemented by XTendCall, families always have the confidence that their loved ones will be given the best care and assistance when needed.
It is designed to give staff and residents the freedom to use their wireless pendants anywhere inside or outside the facility and notify appropriate responders. The system is fully supervised. Should a device go offsite, XTendCall will notify the relevant staff.  Our emergency call solution provides room-level accuracy in a single level or multi-level building.
Highly Customizable
XTendCall is the market leader in the manufacturing and distribution of quality senior wireless nurse call systems. There are three tiers of services that have been launched and can be customized to fit each resident's specific needs.
The first level offering provides facilities and their residents with a cost-effective, rapid deployment of wireless call points in a self-contained RF and/or Hybrid (Ultrasonic)
network. Location is limited to the room and associated bathroom and is not meant to be a mobile duress solution but a localized wireless nurse call. The second level of service leverages the power of Inovonics UL 2560 component certification that ensures 99.99% alarm message delivery and timely identification of missing devices. Driven by advanced XTendCall AI and algorithms, this wireless nurse call solution delivers reliable wireless pendant performance throughout a property and gives accurate location through a robust Location Based Services (LBS).
The highest level of service available in this line of senior wireless nurse call systems involves the convergence of best-in-class software. It provides resident safety and operational excellence by extending capabilities with a patented MobileX App.  Additional integrations to EHRs and 3rd party systems create the ultimate workflow engine for optimal resident and staff satisfaction.
Innovative and Cost-Effective
Our Wireless Nurse Call System is available as CAPEX solution or as a SaaS (Software as a Service) offering to fit your individual budget. Call stations are wireless, which reduces the installation time and cabling costs. XTendCall can also reuse old Nurse Call systems and peripherals to stage the implementation one floor, one wing, or one room at a time.
At this point, you should have a better understanding of what XtendCall Wireless Nurse Call system is designed to do and what differentiates it from others. In addition, we would like to point out that with all the advanced features and capabilities that XTendCall offers to its users, our nurse call system is very intuitive and easy to use. It is designed in a way that allows its users to be more self-sufficient in maintaining their own system.